Computer Training Center
Access To Technology Training
In a world of ever evolving technology, you might wonder how people with visual impairments can take advantage of the latest computer technology. The visually impaired, like many people with disabilities, have been using computers for decades with the help of software and hardware that have continued to improve over the years.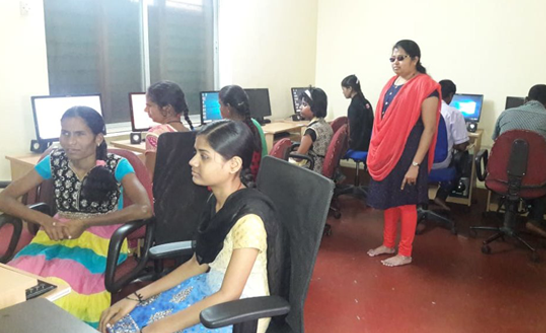 Divya Jyothi Trust Computer Training Center provides tutorial-training services to visually impaired students. On completion of the training, students will be able to use common computer-processing applications and will be able to read electronic text on screen (with the use of special software), download information from the Internet for reading or printing,browse online newspapers, do online research and continuously upgrade their skills. The training is offered free of cost by the Trust. Our goal is to work towards creating IT awareness and providing knowledge and specialized skills to empower our students in order to make them self-sufficient and independent. We train students on the use of special software such as JAWS, KURZWEIL and MAGIC. Computer education is provided to students who have passed 10th standard.
Key learning

Using Computers Safely and Responsibly.
Develop Keyboard Skills.
Operate a Personal Computer
Produce Simple Word Processed Documents.
Introduction to the Internet.
Introduction to Email.
Technologies for their everyday lives.
Vision accessibility features in iOS and Android.
Beneficiaries
60%
Pre University students
Basic Computer Course
Divya Jyothi Trust trains to access technology which opens up new pathways to employment, independent living, further education as well enhancing social interactions with family and friends.
In step with effort to achieve the objective of achieving computer literacy in an inclusive manner, Divya Jyothi Trust is tied up with NIELIT, which launched a new programme, "Basic Computer Course (BCC)". The objective of the course is to impart basic level computer appreciation programme with more emphasis on hands on training. Initially, the course was conceived as to boost the concept of introducing a course on computer fundamentals, especially for students, studying vocational courses at ITIs/ITCs. However, the course has gained popularity amongst many more categories. The BCC was launched in year 2011. The programme can equip a person to use the computers in day-to-day life for professional and personal use. After completing the course the incumbent will be computer literate and will be able to:

Acquire confidence in using computer techniques available to users.
Recognize the basic components of computers and terminology.
Understand data, information and file management.
Create documents using Word processor, Spreadsheet & Presentation Software.
Understand computer networks, Internet.
Browse the internet, content search, email and collaborate with peers.
Use e-Governance applications.
Use computer to improve existing skills and learn new skills.
The candidates can appear in the NIELIT BCC Examination.
CONTACT US
+91 98864 09563
divya.jyothi.trust@gmail.com
Follow us on Facebook
VISIT US
Mon - Sat 09:30 - 17:30
# 2, 12th Cross, 8th Main,
3rd Stage, Dattagalli, Mysore - 570033.
# 2, 12th Cross, 8th Main,
3rd Stage,Dattagalli,
Mysore - 570033.